Thank you, thank you, thank you, Samuel Winchester. Or rather, the people as thought of what music to play whilst you were enjoying yerself in the second season episode '
Heart
'. No, not cos I were perving cos it were the one time Sammy proper got his kit off – I couldn't perv, really. For exactly the same reason I really liked Sam Tyler but could never,
never
give him one. Girls, you know what I mean. I think.
Anyway
, what I meant were that they played a track over the top that I fell in love with – which, a quick trip to Google-land later, I discovered was in fact '
Look At You
' by
Screaming Trees
.
Interest piqued and now armed wi the requisite details, I found meself a copy and then thought I'd skirt round the edges and see if owt else they'd done took my fancy. It did. Quite a lot did, in fact. '
All I Know
' has to be the absolute best bloody song I've heard this week – which is actually saying quite a lot cos I've heard a lot this last week. I'm also totally made-up wi '
Dying Days
'. And now, an Amazon purchase later, I'm eagerly awaiting my delivery of their album '
Dust
'.
Then due to some London Live shitefest we were told that
A-Ha
are once more doing the rounds wi a new album. '
Analogue
' got little or no promo over here, so until we saw this out-of-date broadcast on
BBC Entertainment
we had no idea. However, that said, Morten Harket is looking more '
Morten Park-it Harket here
' than ever. He grew into that, didn't he? Eh? He's certainly not done bad for himself, that boy, not bad at all. Title track from the album is a corker, little bit new-ish, very much A-Ha-ish, and the only other track I've heard so far, '
Birthright
', while definitely slower and calmer, is still a nice little choon. Will reserve judgement before aforementioned Amazon package is delivered, containing my Screaming Trees goodies and another album I've obviously missed out on until now: '
All The Right Reasons
' by
Nickelback
. The tracks that persuaded me to buy it were '
Side Of A Bullet
' and '
Rockstar
', in that order. As I said, wingin' its way to me as I type, mate. This is me, rubbing me hands in anticipation…
Just time to mention I stumbled upon another Steve Carlson album, this time '
Groovin' On The Inside
', which features the absolutely amazing track '
If It Ain't easy
', and that between that and songs like '
Night Time
', '
Wasted Jamie
', '
Rocking Chair
' and of course the inestimably fine '
Come Around More Alabama
', it's been a fan-dabby-dozy 2008 so far, music-wise.
And so we come to the rub; finding new music int first place. Which is why, along with cimply wanting to kill time, we've been watching
American Idol
this evening. We're down to twelve lads and twelve lasses, from what I can gather. The blokee I wanted to win, Drew from Alabama, has already gone home.
Boo!
However, I now have four blokes who I wouldn't begrudge a win: David Cook (waistcoated rocker dude), Garrett Haley (long haired soft rock dude), Jason Castro (dreadlocked guitar dude) or Michael Johns (Aussie-goes-to-Hollywood dude). After having seen their ongoing auditions this evening, and seeing that the rest are much of a muchness, I'm favouring any one of my four. Apparently the birds are on tomorrow night, but don't think I can stomach all that warbling and
warning-ships-off-of-rocks-in-fog
efforts. Absolutely not.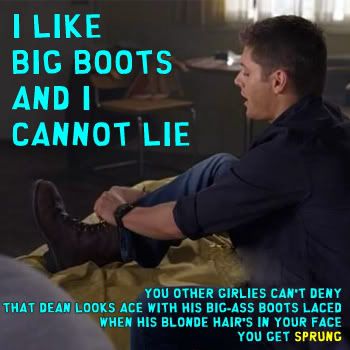 That's it, I'm packing this in and going to bed. It's going up to 2.30 int morning over here, y'know.
I've been busy though – went to the pictures again. But that, as they say, is another story.
So here's a gratuitous picture of Jensen Ackles to keep me amused. This particular gem took me all of twenty minutes from conception to reality, via some melon-tasting vodka shots and Adobe Photoshop. Not bad, even if I do say so meself.
Even made the altered lyrics fit, too. What a genius I am.
Soopytwist.
Tags:
Supernatural
~
Sam Winchester
~
Screaming Trees
~
A-Ha
~
Nickelback
~
Steve Carlson
~
American Idol
~
Jensen Ackles
~
Dean Winchester