… and then he turns to me and says '
How am I supposed to get it in at that angle?!
'. --Oh! Hello, sorry, didn't see you there. Just that I had a great birthday drinks cake fun and quiz thing Sunday night and yesterday (Monday) was a pretty ace day too. Let's see - got some lovely cyber-pressies (NSFW pics FTW! Talk about p0rn for the fangirl! Phew!) and a lovely pie-and-a-pint dinner at The Chippy (no really, that's the name of the place). Even my
Farscape
hardcover volume three comic book came int post - '
Gone and Back
'.
How cool is that? And look - it's even got Winona on the cover under the dust jacket! AWESOME!SAUCE~
A great big hyowj thank you to
Boom! Studios
for getting it to me so that it arrived actually on my birthday. Wowzers.
Anyway, what was I doing? Oh right, yes - pimping. It's fic time again, and I think I'm onto something here…
Title: "Better Out Than In"
Fandom:
Supernatural
Rating:
Rated T for language, and if we're really lucky, bloody fights!
Category:
AU. Set just after the season finale of season 3, as if seasons 4 and 5 never happened. SPOILERS for season 5, though.
How in the world did that happen?
Summary:
After the closing moments of season three, Dean finds his way back to his family. Or does he?
Posted first (as always) at
SPNVille.net
.
Disclaimer:
I do not own the TV show '
Supernatural
' either in whole or in part, but I wish I could write episodes full time. Or get a life. Or both.
Linky-link-link: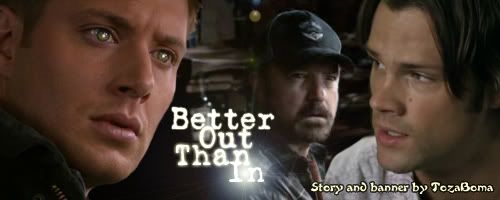 Slowly getting round to adding all the links and shite back in my sidebar there, so bear with me. I've actually lost a lot of links I used to read all the time, so if you see that you're missing, please tell me. And that's all the news that fit to print.

Cheers m'dears~ Stick a fork in me, it's been grand.

Tags:
Supernatural ~ Farscape ~ fan-fic