Pardon me while I Ramble On about stuff, cos I've been a bit Dazed and Confused recently. Had some Good Times and Bad Times this week.
Got
Skype
to work after a Communication Breakdown with 3's HK$48 package to call the UK kept ballsing up. Poor lines, frequent whole-second delays on said line, unable to get through and being told to '
check my number and dial again
' (when name was chosen from the phonebook) just kept annoying me.
In The Evening have been doing the usual; writing fiction and Beta'ing others' stuff. The fact that I haven't blogged in a week is Nobody's Fault But Mine, cos I've been too engrossed in other writing. Was spared my kindergarten from Hell last Friday, cos we were blessed with a number nine typhoon - excellent! However, I just know I'll be Trampled Underfoot this Friday when I do my last kindergarten fert summer.
Spoilers are coming thick and fast for season four of '
Supernatural
', with everything from the CW channel deliberately 'leaking' stills from filming of the first episode, to the first five minutes of said episode being shown at the recent
San Diego Comic-Con
. I'm on the edge of me seat with regards to finding out -
if
- how Dean Winchester (whom I would give a Whole Lotta Love) comes back.
SUBTITLED: Sam will save Dean through no fault of his own because his name ends in 'EL'.
But this doesn't mean I actually want to know any spoilers at all. As with '
Doctor bloody Who
' I am saving all surprises, shocks, saltin'-n'-burnin', shotguns, swearing and shenanigans for 19th September (my time). If
someone
very closely related to me hadn't already sent me an SMS with the episode title, I wouldn't even know that. How can two little words tell you the entire premise of an episode? Well, they do. If you don't want to be spoiled either, then I suggest you do not find the name of the episode. It's like sneaking a peek ahead at the end of the season two finale (back in 2007) and finding the name of the episode is '
The One Where Sam Dies
'. Seriously, do yourself a favour and don't look.
That aside, apparently we've had some sports or summat over in the Mainland. Apparently it's also finished. Saw the closing ceremony and thought Beijing did a pretty bang-up job. Saw the London 'hand-over' thing and thought it were quite embarrassing to be from the UK. Ah well. I just think it's cute that people believe the 2012 Olympics are going to happen. I mean, this is the city who can't make their Underground run without people passing out from summer heat. You really think anything is going to work? They've got X amount of venues that are all going to be sign-posted incorrectly and upside down. It's going to be, at best, a disaster, and at worst,
a nightmare for locals
. I think I'll make sure I'm as far away from London Village in 2012 as possible. I can get my Yorkshire Tea and cakes with edible crunchy ball bearings on them over here, anyway.
Some good news, then: a new AC/DC album is
in the offing
, and also one from Oasis. I'm liking the single '
The Shock Of The Lightning
' so far, so I suppose a copy of '
Dig Out Your Soul
' will worm its way into my collection come October.

So that was the long, here are the shorts - two of them, to be precise. Fan-fics. Yes. You knew this was coming, right? Both '
Supernatural
'-themed and both already released, rabid and going like greased lightning, over at
SPNville.net
. Each one had to be under 2,500 words for the challenge, and I believe I just about sneaked in under the wire with each. (And yes, they're supposed to open the same way. Kinda.)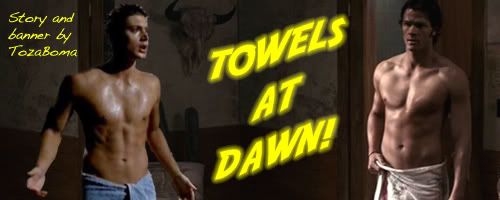 That shallot. No, onion. I'm off to bed - about 2 hours earlier than every other night this week. Yay me!
Soopytwist.
Tags:
Led Zeppelin
~
AC/DC
~
Oasis
~
London 2012
~
Olympics
~
Supernatural
~
Dean Winchester
~
fan-fic